Your rights to privacy – our commitment to you
The Trustee of Contracting Industry Redundancy Trust (CIRT) understands the importance of protecting your right to privacy. We are committed to the protection of the information that we hold about you.
This policy briefly explains the main reasons why we collect your personal information, the ways we protect your privacy, and how we comply with the Australian Privacy Principles under the Privacy Act 1988.
What is personal information
Personal information is information or an opinion about you from which you can reasonably be identified.
What personal information is collected and held?
CIRT's main function is to operate a redundancy fund. CIRT may also offers other services such as education, counselling support (through third parties) and industry related training through an association with JETCO INC.
We collect information that's relevant to our relationship with you, this includes such items as:
Full name
Date of birth
Postal address
Tax File Number (TFN)
Residential address
Occupation
Phone numbers
Email address
Gender
Bank details

Beneficiary details
Contributions
Membership of other funds
Financial details
Photographs, signatures, identification document numbers and other information collected during the process of identifying you
Social security information
We may also need to ask you for sensitive information including:
Medical information 
Financial information 
Affiliations with industry groups 
Family and/or personal relationship details 
How does CIRT collect and hold personal information?
Personal information is generally collected directly from you or through your employer (in addition, this could be via the website and portal), identity verification providers or another representative authorised by you.
Where CIRT collects personal information about you from a third party, reasonable steps will be taken to ensure that you are made aware of how to contact CIRT to access your information, the purposes for which the information is collected, the types of organisations to which information is usually disclosed and any law that requires the particular information to be collected.
The personal information CIRT collects about you is used to establish a membership account, to process contributions to your account, to correspond with you and to provide you with redundancy and other benefits and options from CIRT.
If you choose not to provide your personal information, it may mean that we will not be able to provide these services to you, including some CIRT benefits and options.
There are other organisations that are connected to the administration services we provide to you, and which may have access to your personal information. They include such organisations as:
Principal contractors on building sites.
Fund Sponsors.
Mailing organisations contracted to mail communications to you.
Archiving companies – organisations contracted to ensure that all documents are stored in a secure environment.
Auditors and Regulators – organisations that ensure CIRT is complying with legislation and contractual obligations.
Once collected, your personal information is stored securely on a database maintained by the Independent Fund Administrators & Advisers Pty Ltd ABN 28 081 966 243, also referred to as 'IFAA or our 'Fund Administrator'. We may also hold your personal information in hard copy format if you provide it for purposes including, but not limited to benefit claims and complaints. 
CIRT may also use personal information we hold to provide details of promotional offers and special events. You may advise us that you do not wish to receive such material by contacting CIRT's Privacy Officer using the details set out below.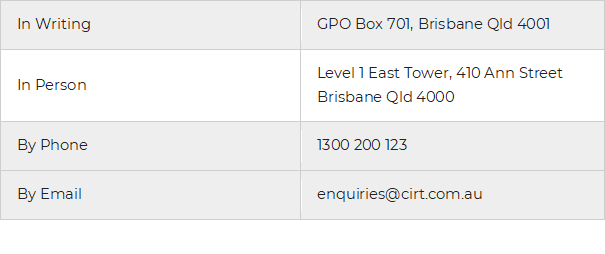 Data Integrity (Quality)
We try to ensure that the information that we hold about you is accurate, complete and up to date. We will do this by applying periodic checks for data quality, and updating information where required. We may also request that you review information we send you, so you can advise of any changes to personal information.
Data Security
We will ensure that the information that we hold about you is secure and is protected from misuse, interference and loss, or from unauthorised access, modification or disclosure.
We will do this by ensuring comprehensive policies and controls are in place relating to data security. This includes both comprehensive IT security arrangements as well as appropriate physical security arrangements. In combination, this will protect the security of personal information we hold.
If we have determined that we no longer need the information about you, we will either securely archive or destroy the information, depending on the circumstances or policy to which the information relates.
Eligible data breach notification
When we become aware of a breach of data security (i.e. unauthorised disclosure, access or loss) in respect of your personal information, the relevant entity will implement processes to assess the impact of the data breach.
In accordance with the requirements of the privacy legislation, we will report eligible data breaches to the Office of the Australian Information Commissioner (OAIC) and affected individuals as soon as practicable after we become aware that there are reasonable grounds to believe that there has been an eligible data breach.
Need to get in touch?
Contact us via the details below if you would like to:
Find out more. If you would like further information about privacy at CIRT, just let us know.
Access or update your personal information.  We will provide you with a copy of your requested personal information or update your details as soon as possible. We encourage you to contact us to correct any personal information we hold about you. In the rare event that we are unable to provide you with access to or update your personal information, we'll write to you to let you know why.
Provide feedback or make a complaint.  We will make sure that someone from CIRT responds to you within 30 days.
Opt-out communications. Please contact us at any time if you no longer wish to receive direct marketing material, Alternatively, login to your Member Online Portal to opt-out.

Dated March 2022